Google Search Console is a powerful tool that can help you to improve your website's ranking and performance in search results. In Google search console you can monitor keywords and your pages ranking and the site performance. This tool is very helpful in optimizing your website for better ranking and finding errors in your website. In this post, we'll show you how to verify your Google Search Console account so you can monitor your website growth. 
Why its Important to verify Google Search Console?
First start with what is google search console. Google Search Console is a web platform that helps you monitor and maintain your site's performance in Google results. In the search console you can find other tools like sitemaps and individual URLs for crawling, test your structured data, and view your search traffic and statistics. It also provides you data related to your international targeting and your mobile experience.
Why Google search console is important?
Google Search Console is very important because it allows webmasters to check and index your website. It provides all the data related to your keywords and queries in which your website is currently ranking. Also gives you insights of your organic keywords, ranking pages and positions of keywords, impressions and clicks your website receives. Intially it's known as webmasters but now it's known as Google Search Console. You can submit and test your sitemaps, submit URLs for crawling, and find out about any crawl errors that have occurred.
How to Set Up Google Search Console account?
To use google search console first you need to create a google account if you have already you can use that.
First type search console in Google open first url of search console. Click on get started and continue with your Google account. After registration the search console dashboard will open where you have to submit your website to integrate your website with the search console.
Different ways to Website Property Validation
First Add your website property
Click "Add a property."
Enter your website's URL in the "Site or app" field and click "Continue."
Choose how you want to verify your ownership of the site and follow the instructions on the screen.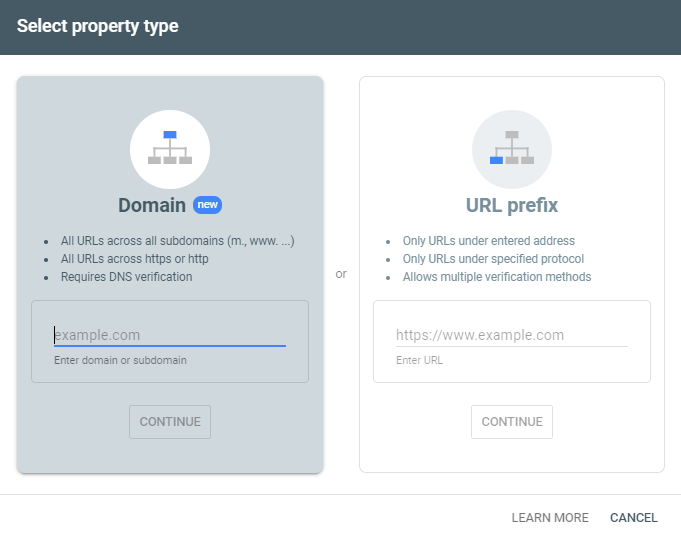 Two ways to verify your website
Root Domain Verification – In the root domain verification you can integrate your website property by DNS access
Specific URL Prefix – In this method you can verify through your domain and use several methods of verification, including HTML tag, Google Analytics, and more. 
How to verify Google search console using google-site-verification txt?
You can also verify your website through google analytic. In this simple process you only require you to add a small piece of code to your site's DNS records.
1. First login to your Domain register website.
2. Open your DNS records settings
3. Find the TXT record for your domain name and add the following code,
4. Save your changes and wait for the DNS changes (this can take up to 24 hours).
5. Once you change the DNS records, then go back to Google Search Console and click the Verify button.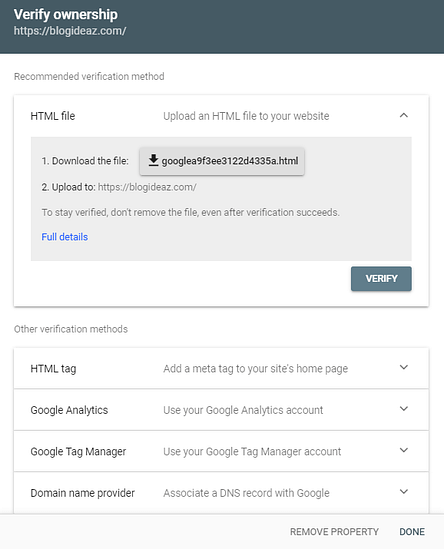 Using Specific URL Prefix
Adding an HTML file to your site
Once you download the HTML file, you need to login to your cpanel of your hosting and upload that html file into your root directory folder. You can verify that the file was uploaded properly by adding the HTML file name to the end of your domain.
Adding an HTML meta tag to your site's homepage
Once you click that verification method, Search Console will give you an HTML meta tag that will look something like this:
Using an existing Google Analytics account
As long as the email address you're using is verified with Google Analytics, Search Console will also give you ownership status of your Search Console property.
Once you expand the Google Tag Manager verification method, click "Verify." Google will look for the appropriate permissions and grant you access accordingly
How do I verify my Google console using Google Tag Manager?
You can easily verify your website using Google tag manager. If you're using Google Tag Manager to manage your website tags, you can verify your site by adding a new container tag. 
Follow these steps:
1. Sign in to your Google Tag Manager account and select the container that represents your website.
2. Click Tags in the left navigation panel.
3. Click New in the top right corner of the workspace.
4. In the resulting dialog, select Universal Analytics as the tag type. Then, enter your Tracking ID into the Tracking ID field and click Continue. (Your Tracking ID is formatted like UA-XXXXXXXX-X.)
If you're not sure what your Tracking ID is, find it in your Google Analytics account settings or ask your webmaster for help.
5. Configure the fields for this tag according to your needs (optional). For more information about configuring Universal Analytics tags, see About universal analytics tracking code on web pages from Google Support. When you're done, click Create Tag.
6. In the resulting dialog, click Triggering and choose when you want this tag to fire: All Pages or Some Pages? If you choose Some Pages:, enter a URL or Page Path Pattern into the corresponding field so that GTM knows which pages to trigger this tag on (optional). When you're done configuring triggers, click Save & Close at the bottom of the dialog box."
How to verify google search console on WordPress google site verification?
Adding your website to Google Search Console is a simple process that only takes a few minutes.
If you're using WordPress CMS for your website design there are several plugins you can use to integrate your website to the search console.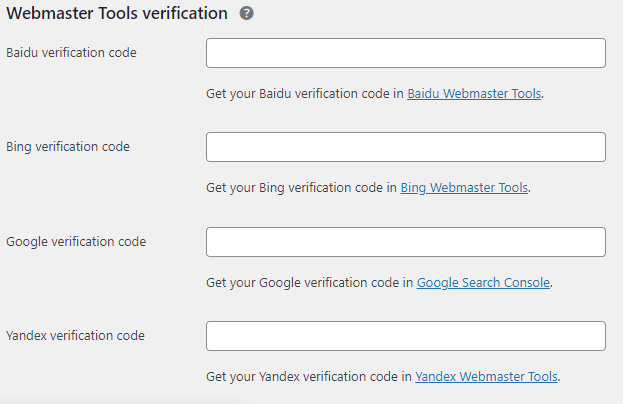 For WordPress websites, the easiest method is usually through the Yoast SEO plugin. Install and activate Yoast SEO, then go to SEO → General →Webmaster Tools and enter your Google Search Console verification code into the appropriate field. Save your changes, and you're done!
There are other plugins like Search Console, Search Engine Insights.
How to verify google search console using google-site-verification html tag?
In another option you can verify your search console property by pasting a HTML meta tag. In this process first copy your HTML tag and then paste that code in the head section of your header section.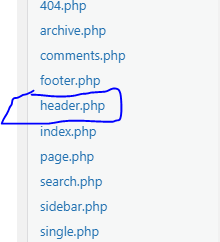 You can find your header section in the appearance section and then go to the theme editor. Where you find different sections of your website click on header section. Then paste html code in the starting of head section and click on save file. This verification method is quick and easy, and only requires to paste a simple html code.
Reasons of Google Search Console – Verification Failed
Special HTML File
Removing the verification file from your website will make you lose verification.
Not found
Wrong content
Hacked
Redirects to a disallowed location
Using Incorrect tag/snippet/files. Remember to use the ones provided at the beginning of the verification process.
Check these issue
HTML tag
Adding <META> tag must be within the <HEAD>
Wrong location: correct page, correct place
DNS Record
Add a new TXT record with domain name provider.
Error looking site's domain name.Could be server down, or an issue with routing the DNS.
Analytics Tracking Code
Google Analytics tracking code associated with the website.
Place the tracking code in the <head> section, not the <body> section or, verification will fail.Only use the exact code provided; do not modify it in any way.
Server Timed Out
Was your server down, busy or responding slowly?
Unable to connect to the server, you need to clarify that the server is not down.
Website or the domain server has stopped responding to requests.
Check server and response time and try again.
Unknown Domain / DNS
Check that you are submitting the correct URL for your website.
Check spelling errors, and correct extension (.com, .co.uk etc)
How do I remove a property from the Search Console?
Open the property settings page of that property and click Remove property. If you are a verified owner, you might easily remove the access token you used to verify ownership. If you don't, you can regain access to the property by simply adding the same property in Search Console and clicking Verify.
How many websites can you add in the search console?
You can have up to 1,000 properties in your Search Console account.
Verify Google Search Console