A Robot txt file is simply a txt file that gives instructions to Google web bots and spiders on how to crawl your website. Robots txt is a part of the robots exclusion protocol (REP) and tells google bots and spiders which pages are accessible to crawl on your website. Robots txt file is followed by the major search engines like Google, Yahoo, and Bind and takes instruction from the txt robots. Here is complete guide about What is Robot txt File.
How do you write robots.txt syntax?
Robots txt file is a set of user agents and their derivatives, which guides google spiders how to crawl your website. A robots txt file contains multiple user agents and directives separated by a line break. With multiple users against directives, the robots txt file is simply followed by a line break of allow and disallows rule.
Example check Robots Txt file of Semrush.com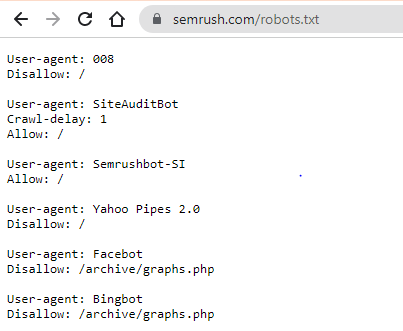 What are user agents in txt file?
The user-agent is the name of web spiders which you want to apply the rule by selective directives. It can be Google, Yahoo, Bing or any other web spiders.
What are directives in Robots txt file?
Robots directives are simply instructions to the crawlers how to crawl and index your website pages.
Some Directives of robots txt file
User Agents
Disallow
Allow
Crawl Delay
Sitemap
How to write Robots txt Syntax?
Now you understand what is robot txt File. One robots file can contain multiple lines of user agents and directives (i.e., disallows, allows, crawl-delays, etc.).
And user-agent directives appear as a discrete set of instructions, separated by a line break. You can add instructions by creating setup directives followed by user-agets. A robots.txt file can contain multiple user-agent directives, each disallows or allow rule only applies to the user-agent specified in that particular line break-separated set.
Robots txt syntax Format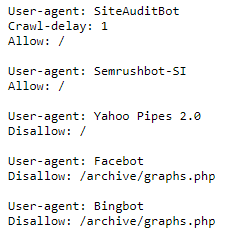 How to check robots txt file of any website?
To check the robots txt file of your website or any other website you can simply add robots txt syntax after its root domain. For Example, if you want to check robots txt file of www.example.com you can follow by this syntax www.example.com/robots.txt 
Types of robots.txt syntax and their uses
User-agent: The specific search engine to which you are giving crawl instructions. A list of most user agents can be found here.
Disallow: This rule gives instructions to google crawlers to not crawl and index that specific page.
Allow: This rule tells Googlebot to access and crawl a specific page or subfolder, even its parent page may be disallowed.
Crawl-delay: This command tells the crawler to wait before loading and crawling the specific page. You can set your crawler budget in the Google Search Console section.
Sitemap: This is Used to call out the location of any XML sitemap(s) associated with this URL.
Why Should you use Robots.txt file in SEO?
The robots txt file has a set of instructions for google crawler and bots on how to crawl and index your website. It can be very dangerous if you accidentally disallow Googlebot from crawling your entire site. Then your whole website will be de-indexed.
Why is Robots txt File Important in SEO?
Robot's txt files help us to prevent duplicate content from indexing in search results. Also, you can use meta robots to no-index your duplicate content.
Is robots.txt necessary for SEO?
It's not necessary to have a robot's txt file for all websites. If your website doesn't have a robots txt file then google will crawl your entire website without following any specific rule.
But it's become important to have robots' txt files when you don't want to index personal data, site data, and internal search queries and Specific urls.
Benefit of Robots txt file
To keep internal search results pages from showing up on a public SERP you can add disallow directives in Robots file. It's very useful to prevent search engines from indexing certain files on your website (images, PDFs, etc.). You can also specify a crawl delay in order to prevent your servers from being overloaded when google spiders load multiple pieces of content.
Use of robots.txt file in SEO
Robots txt can be very useful in SEO if you use it in the right way. When you disallow a specific page through the robot's txt file no link juice will pass through that blocked page to the linked destination page. So use it carefully if you have a page on which you want to pass the link equity use methods other than robot's txt file.
Robots txt is very important when you don't want to crawl sensitive and private data on your site. It helps you to guide Google bots to not crawl and index specific data on SERP pages.
Where to submit robots txt file?
Now you know the importance of robots txt files and you created one for your website. The next question is where you will submit this txt file. So you can submit your file on the google webmaster robots testing tool.

Check for Errors and Mistakes
On the google robots testing tool so you can test your file if there are any errors or mistakes. So you don't get any problems because of One mistake and your entire site could get deindexed.
Robots.txt sitemap
You can also submit your sitemap URL on robots txt file, so your sitemap can be indexed instantly through the txt file.